Executive Profile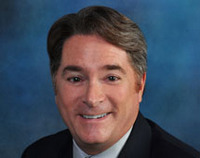 Daniel P. Evans
League Commissioner
E-mail:
The depth and level of experience that Dan Evans brings to the Northern League is unique in independent baseball and a distinct advantage to our league and its fans.
Evans, a former General Manager of the Los Angeles Dodgers, has been in professional baseball for over three decades, and has been involved in decision-making roles throughout his career. The Chicago native began his baseball journey as an intern for the Chicago White Sox while a junior in college and has worked for five MLB franchises: White Sox (1981-2000); Chicago Cubs (2000-2001); Los Angeles Dodgers (2001-2004); Seattle Mariners (2004-2007), and the Toronto Blue Jays (2013-present). In addition, Evans' experience is wide ranging, as he is the only former General Manager of a MLB club who also led a baseball representation firm. Evans has also been a broadcast analyst for MLB games, was the author of "108 Stitches," a column for Baseball Prospectus, and is a member of the Baseball Prospectus Advisory Board.
As Commissioner of the Northern League, Evans is the Chief Executive Officer, fully responsible for managing the League's day-to-day operation, growing the brand of the League while developing markets and territories. A pioneer and innovator, Evans' significant baseball experience will influence the League's on-field product, along with new concepts designed to enhance fans' Northern League experience.
Evans' .548 winning percentage is the second-best mark for any GM in Los Angeles Dodger history and during his tenure he oversaw the two most productive consecutive drafts in MLB history, including the selection of All-Star Matt Kemp. Evans led the transformation of a Dodger franchise which had sunk to an overall rating of 28th among MLB clubs by rebuilding the organization's scouting and player developments to secure the #1 spot just two years later. The team set numerous Dodger franchise records in pitching and defense while he was the club's GM.
His @DanEvans108 Twitter account has been recognized as "Whom to Follow" by Twitter, Top Prospect Alert, and Bleacher Report, and was recently named among "Top 50 Baseball Related Twitter Accounts" by Baseball America and "30 Must Follow Twitter Accounts for Baseball Fanatics" by Mashable. Dan Evans' LinkedIn profile was among the site's top 1% most-viewed in 2012, and he is in the top 1% of Klout and Kred influencers on social media.
Evans is a frequent expert guest on numerous radio, Internet, and podcasts across the baseball world, including MLB Network Radio. He has been a SABR member since his career began, and was an original board member of the Professional Baseball Scouts Foundation.
A proud alum of DePaul University, Evans and wife, Susan, are parents of two daughters, Sarah and Andie.